Guest Writer: Father Moo
In my last post, I talked about the natural and unnatural sound environments we live in, and interact with, and how we can draw raw sounds from our lives and incorporate them into our own music. (At least that's what I think I was trying to say.)
I wrote that post, as I'm writing this one, sitting in the Chiang Kai Shek Hall, which is across the street from my studio. I'm using a little netbook computer that's so old it's running Windows XP. Sometimes, I consult my phone to look something up on the internet. But the key point here is, I'm running on batteries.
Batteries and battery-powered synths (or sequencers, or drum machines, or little music computers) have always been something I've prized. When I first got into synths and computer music, I had a laptop running Windows 98 (I haven't come that far!) with Rebirth, a predecessor of Reason, and Sonic Foundry Acid, an old looping program kind of like Ableton Live. I also had my first hardware synth, the Yamaha AN1X, which I bought secondhand from ATB Tony's Music (there was no Digilog in Taipei at the time! Don't blame me!). The AN1X was one of the first virtual analog synths, and it had 8 knobs, and it had some pretty great presets - #70, a bandwidth filtered and swept pad, and #71, the weird Ice Pad. I really liked that synth – but it was big and blue and heavy, and it didn't run on batteries. My laptop had a battery, but it would die pretty fast if you tried to take it to the park and make some sounds.
But I had something else. I had a Gameboy Color, and I had two bright yellow cartridges that I bought online (before paypal, I think I did a wire transfer) and had shipped to me from Germany in 2001. They were two copies of Nanoloop 1.0. They allowed you to turn your Gameboy into a 16-step sequencer which controlled 3 synths (two 4-bit pitched synths and a noise synth for drums). It had no midi so I couldn't synch it to the AN1X, but it could play melodies in C minor and C major, and it could store a bunch of patterns and you could switch between them on the fly.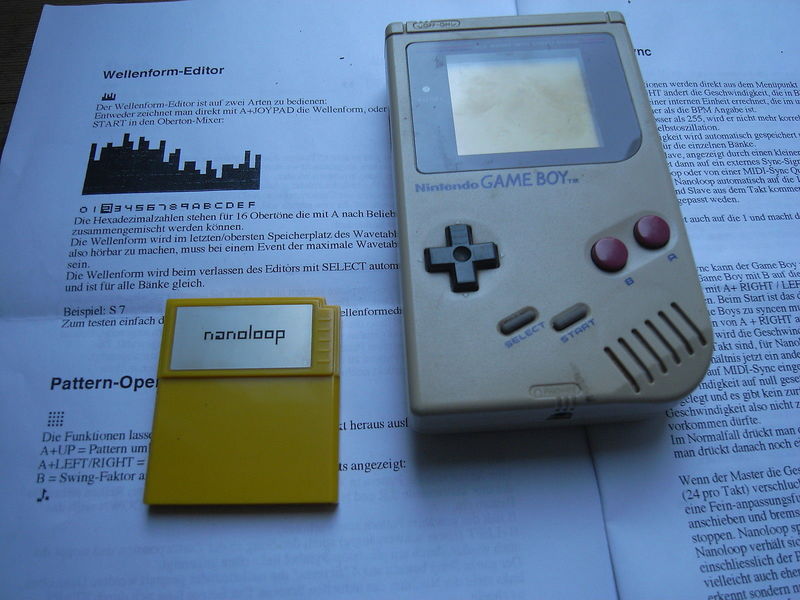 <Image: Nanoloop>
But most importantly, it ran on batteries. Now I could ride the train or the bus and program sequences and save them to the cartridge's memory, which also ran on batteries. The output was extremely noisy – 4bit synthesis has a high noise floor, and the fact that I had a Gameboy Color rather than an original Gameboy increased the noise.
Taiwan seemed very cyberpunk to me in the year 2001. Taiwan (and Hong Kong) were the basis for Masamune Shirow's Ghost in the Shell manga bankground. I remember my girlfriend driving me though the countryside in the south of Taiwan, and I was playing Pole and Monolake and other glitchy electronic music, looking at the industrial parks and refineries where gases cooked off and flared from the tops of chimneys and smokestacks. Of course, these manufacturers and power plants were tucked in and among the rolling green hills and little mountains. Somehow, the Gameboy running Nanoloop seemed the ideal noisy lofi FM representation of this technological tropical rainforest. Here's a track I made in those days, with Nanoloop providing the noise-and-gong stereo percussion sequence and a few notes in C minor, with the Yamaha AN1X overdubbed to provide Pole-style synthetic reggae chords and baselines – Hsinchu Industrial Park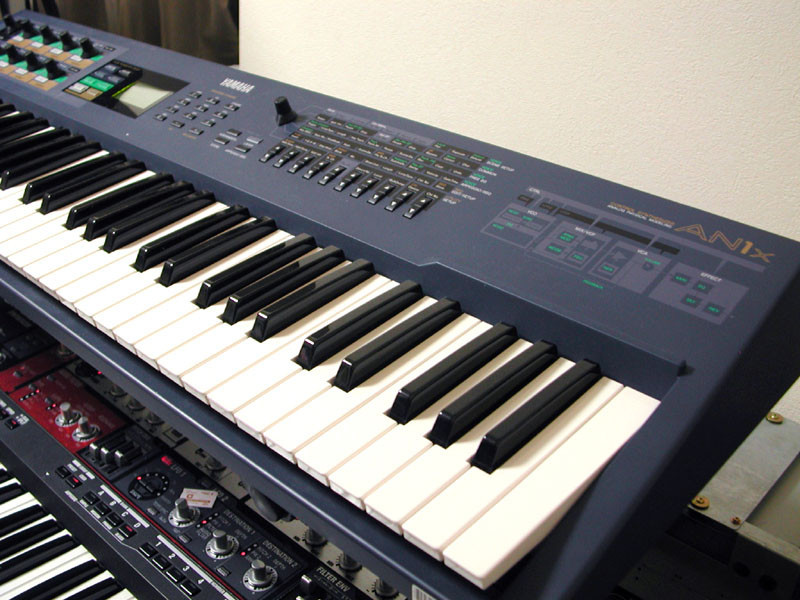 <Image: AN1X>
I know that an analog synth that runs on batteries will never sound as powerful as a Minimoog, but batteries let you go out and compose in nature, or in civilization – anywhere that's not your bedroom. Add a battery-powered portable digital recorder and you can do a whole song in the park. At one point, I had a portable battery powered studio that included a Korg Kaossilator, a Monotron Duo, a Monotron Delay, a Monotribe, and a little kid's synth like a crappy casio that ran on batteries and had a few presets. I could record all of these on the MicroBR, maybe running them through a battery-powered guitar pedal on the way.
These days there's many choices for battery powered synths. The pocket operators from Teenage Engineering are great, although a little vulnerable to the elements. The Roland Boutique series mostly run on double A, as do the Volcas. I also have a Bitranger and Kastl made by Bastl, which are battery powered modulars, although the patch cables have proved a little too fiddly for my fat fingers.
And YouTube these days is full of awesome little battery-powered modular systems bleeping and blooping in nature. My own YouTube channel shows me dragging my battery powered gear around Taipei and making sounds. Good thing I made a video with the Volca Keys before I sold it – Synthesizer of Infinite Light
I've heard modular jam sessions in public locations are more likely to appear in Taipei in the future. Battery power isn't even a limit to audio quality – the best pad synth I've ever played is Camel Audio's Alchemy, which runs on my old iPad 2.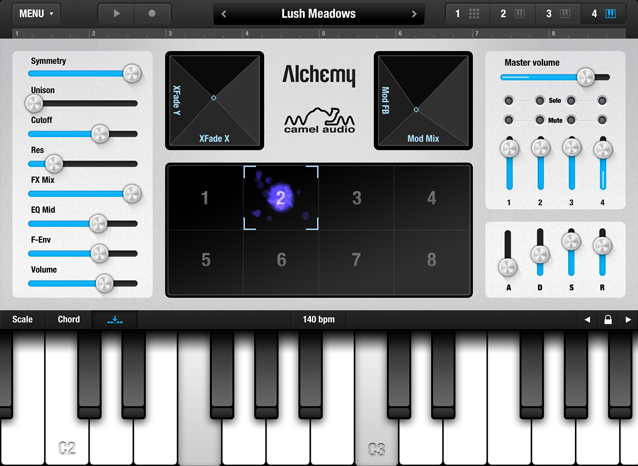 <Image: Alchemy>
My point is, charge up your batteries, grab your headphones, and go make some sounds outside. That said, I gotta save this and stop typing – it's starting to rain on my laptop.
Five Tips For Making Music Outside:
Start Small: if you have a smartphone, you already have many apps at your fingertips that cost nothing and sound amazing. Korg Gadget is an ideal place to start. Load that up and make music in the wild. You don't even need to invest in a hardware digital recorder.

Paint a Picture: beyond simply making music outside, have you ever tried writing a piece of music that reflected your surroundings? Think of yourself like a painter bringing a canvas outside to paint a sunrise as he watches it happen. For electronic music, maybe this means riding the train and making a beat inspired by the sound of the railroad tracks, just to give one example.

Leave Your Comfort Zone: I find that going to a place you've never been is a good way to inspire creativity. For me, I like to take a small synth and my recorder to some stop on the MRT that I've never been to before, get out, walk around and find a place to record. The newness of the place really fires those neurons.

One Step Beyond: I'm not the first person to film my outdoor noodling and post it on Youtube, and I won't be the last. You should try it too. Get a small mount or stand for your smartphone, and a cable to connect your hardware synth to the audio input (the

built in

mic won't sound that good). Things like the Roland GO

:MIXER

are

ideal for this. Some careful positioning will allow you to film your synth (and your fingers) in the foreground and an interesting real-world view in the background.

Start Outside, Finish Inside: I often compose by laying down a beat and/or melodic sequence on one track of my hardware recorder, then record basses, leads and pads on the other channels. So you could easily create your sequence "on location" in the wild, as described above, using a small portable synth and a recorder, then overdub the other parts using your big indoor synths that don't run on batteries. Best of both worlds!